100 Years of German-Russian Cultural Exchange: The First Russian Art Exhibition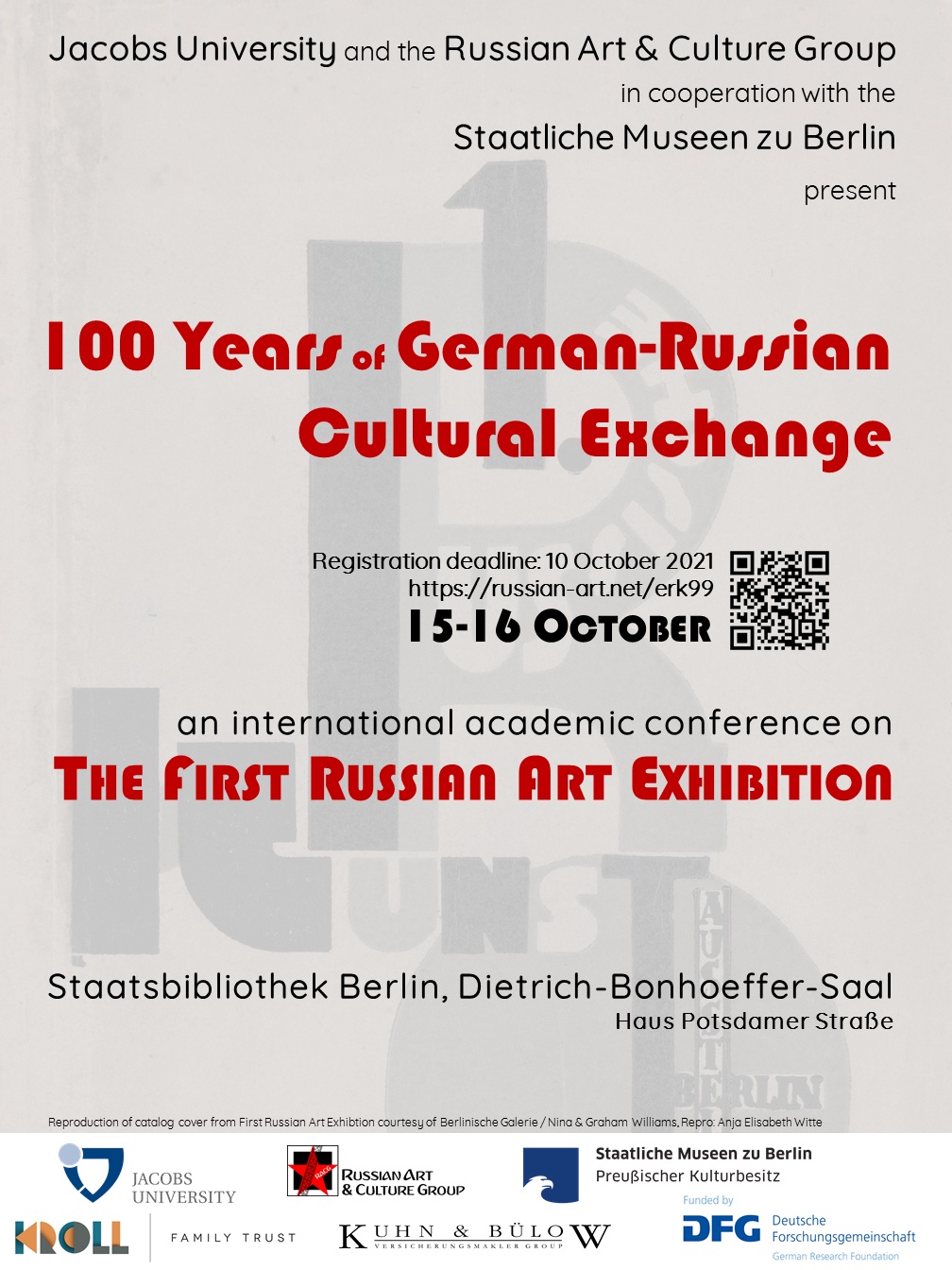 October 15-16, 2021
Dietrich-Bonhoeffer-Saal, Staatsbibliothek Berlin, Haus Potsdamer Straße,
and ONLINE via Zoom.
Program (pdf).
Conference Booklet with abstracts of the talks (pdf).
Gallery.
The First Russian Art Exhibition (Erste Russische Kunstausstellung), which opened in the Galerie van Diemen in Berlin on October 15, 1922, caused a remarkable stir in the Western art world. With Russia having been isolated from the West for almost a decade due to the First World War, the exhibition offered a unique opportunity for a broad Western audience to view first-hand the most recent artistic developments in Russia. The comprehensive exhibition, consisting of at least 237 paintings, more than 500 graphic works, sculptures, stage designs, architectural models, and works of porcelain, had a remarkably broad range that combined rather traditional paintings in a figurative manner by artists such as Abram Arkhipov, Konstantin Korovin, and Boris Kustodiev with the latest creations of the Russian avant-garde, including Cubo-futurist paintings by Nadezhda Udaltsova and Alexandra Exter, Suprematist works by Kazimir Malevich and El Lissitzky, and constructions by Vladimir Tatlin, Naum Gabo, Alexander Rodchenko, and Konstantin Medunetsky.
In view of the upcoming 100th anniversary of the historical exhibition in 2022, Jacobs University Bremen in cooperation with the Staatliche Museen zu Berlin is holding an international conference. The two-day event will present new research on the First Russian Art Exhibition, moving away from the narrow focus on the show's avant-garde art display and examining instead its broader historical scope and art historical implications. Particular emphasis will be on the intentions of the Soviet state, the expectations of German leftist artists and intellectuals, the goals and organization of the exhibition, the role and participation of individual artists in the show, among them Naum Gabo, El Lissitzky, and David Shterenberg, as well as the reception of the exhibition within artistic and architectural circles in Germany, Central- and Eastern Europe, and Japan in the 1920s, and the whereabouts of the works exhibited.
Organizers: Prof. Dr. Isabel Wünsche, Miriam Leimer, Ludmila Piters-Hofmann