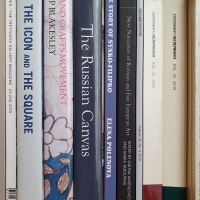 This page will feature current individual publications and lists of individual publications by our members. Please examine the first entries.
In English: "The Russian Kandinsky": On the Significance of Vasilii Kandinskii's Russian Origin for His Reception in Germany, 1912-1945.
Wassily Kandinsky (1866–1944) ranks among the most seminal and innovative artists of the twentieth century. In 1896 he left his native Moscow in order to study painting in Munich. Here, in the years around 1910, he created an abstract pictorial language which caused quite a furor among his audience. At the same time, he and Franz Marc edited the famous almanac The Blue Rider [Der Blaue Reiter]. The avowed internationalism of the Blue Rider was contrasted by a nationalistic mindset at that time which decisively influenced the discussion of Kandinsky's work. This study provides for the first time a systematic exposition of the different perceptions of the "Russian" Kandinsky in Germany, analyzes them in their respective contexts, and examines them in their chronological development from 1912 to 1945.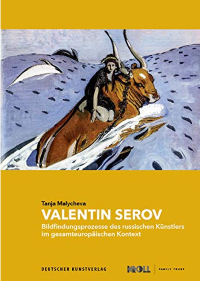 In English: Valentin Serov: Image Genesis Processes of the Russian Artist in a Pan-European Context.
The works of Valentin Serov (1865–1911) mark the beginning of modern Russian painting. He presented them at the Secessions in Munich, Berlin, and Vienna, and at the World Fair and Salon d'Automne in Paris as well as at the Venice Biennial and the International Exhibition in Rome. He was involved in the progressive magazine Mir iskusstva and later enjoyed success as a stage designer for the Ballets Russes, along with its founder, Diaghilev. At the art academy in Moscow, he taught Petrov-Vodkin, Sapunov, Saryan, Kuznetsov, Mashkov, Larionov, and Tatlin.
The author goes on a journey through Serov's life as an artist in diverse cities, movements in painting, collections, aesthetic theories, and theater stages, and makes the artist's processes for creating pictures come alive.